Our motto: Skill with Integrity
GJ Locksmiths you local locksmith and key cutters was established in 1985, operating initially as mobile locksmiths. In 1993 we moved into a small retail shop unit in Enfield Town Station for a short period, then we moved into a retail premises in Hatfield very close to Hatfield Station, Hatfield House in Old Hatfield, Hertfordshire.
Being both company and individual members of the Master Locksmiths Association (MLA) outlines our professional approach towards our business. We pride ourselves on quality workmanship and customer service, so you will find we have a friendly and approachable outlook towards our customers. This is borne out by the customer recommendations we receive and our customer reviews. We really do enjoy helping people.
We are proud to be long-standing members of The Master Locksmiths Association, which is the oldest and most prestigious of the locksmiths' trade associations in the UK. It is a non-profit making association of, as the name implies, Master Locksmiths. Sharing their knowledge and experience amongst other members for the benefit of you, the customer. Then passing on their accumulated knowledge via well respected training courses.
We are also members of the FSB (Federation of Small Businesses).
We Are Your Local Locksmiths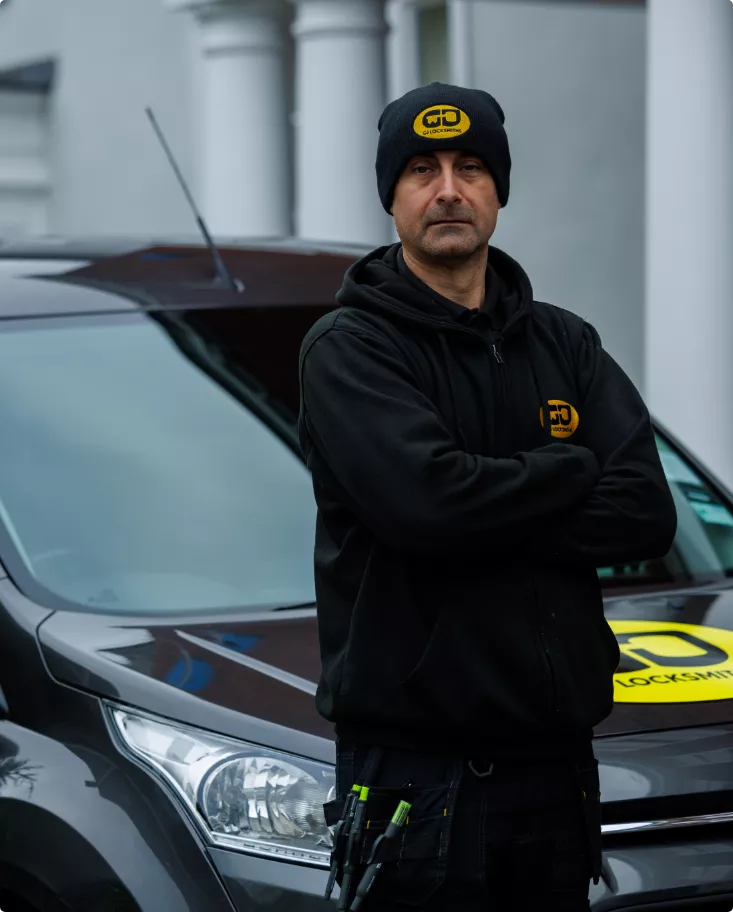 You may see plenty of companies advertising as a 'local locksmiths' in your Google search results. However, many advertised local locksmiths are in fact companies operating nationally, using their marketing might to target local areas and push the little guy out.
If you want to use Local Locksmith and support a local business, make sure you check to see if they have a local business address, check that the address is legit and make sure that you are not getting put through to a national call centre.
Also, have a close look at any Trade Associations as some may have been set up by companies specifically to suggest some authority within the locksmithing trade.
It's not all bad, there are some really good trade associations, so always check the association's website, then check if a company is indeed a current member
You can check out our membership of the MLA on their MLA Website here.
GJ Locksmiths Ltd
9 The Broadway
Old Hatfield
Hertfordshire
AL9 5BG

What Our Customers Say
Highly Recommend
I cannot recommend Martin highly enough. Martin had the expertise to fix our porch door with no new parts needed. It is as good as new. Excellent value for money (we had received two high cost quotes from other locksmiths insisting we needed to replace the whole mechanism). Thank you. Will definitely be be using you again

Jo
Google Review
Great Service
Great Service I broke the key in my husbands classic car while he was away they were able to cut me a new key from the two broken parts.


Good thing is my husband never found out.

Penny
Google Review
Wealth Of Knowledge
Great Locksmiths came out to our new home to change all the locks.

Martin had a wealth of knowledge on the best locks a security for our new home. I would recommend to all top service thank.

My Old Stuff
Google Review
Very Helpful
Luke from GJ Locksmiths came round and dealt with every issue he confronted. He was respectful and very helpful. As usual, the original problem uncovered another problem and so on, but all were dealt with quickly and professionally. I would have no problem whatsoever in recommending them to anyone that needs a locksmith, and lives within their catchment area.

Mike
Google Review
Get In Touch
If you have a question or would like to know more information we would love to hear from you…
GJ Locksmiths Ltd
9 The Broadway
Old Hatfield
Hertfordshire
AL9 5BG
Click one of the buttons below to get directions