Extra van locks, security and L4V locks
GJ Locksmiths Hatfield are Locks 4 Vans suppliers and L4V Locks installers (L4V). We offer an onsite van lock fitting service.
Like most security locks, there are a large range of extra van security locks to choose from on the market, some are better than others. GJ Locksmiths choose to install one of the best currently the market, that's trusted by thousands of tradesmen, they are so good, we have them fitted on our own vans.
All you have to do is give us a call and we'll run through a few questions with you, then we'll advise you on the best van lock and locks for your vehicle, security requirements and budget, then supply you with a no obligation quote.
Popular L4V Locks we fit
L4V Hook Lock
This Lock is a mechanical deadlock, the hock bolt locks into the adjacent van body section, the L4V Hook Lock is independent from the van manufactured door locks and comes with a high security key.
This Hook Lock can be fitted to both rear and side van door.
L4V Slamlock
The L4V Slamlock is an ideal lock for multi-drop courier vans, as the name suggest is a Slam Lock, so once the van door is shut is will automatically lock, protecting against the driver forgetting to manually lock the van door in turn reducing the chance of theft.
This Slam Lock can be fitted to both rear and side van doors, perfect for sliding van doors.
L4V Statement Lock
The L4V Statement Lock is one of the best-selling van locks from L4V, it comes with two configurations and three price points making it a van security solution to suit most budgets.
The Van Lock is mounted externally to the vehicles doors bracing them together, the lock is fitted a little higher up the doors to prevent the risk of the van door being bent down or peeled, the lock is designed to withstand a prolonged attack as well. A very good van lock that also provides a visual deterrent.
This L4V Statement Lock can be fitted to both rear and side van doors.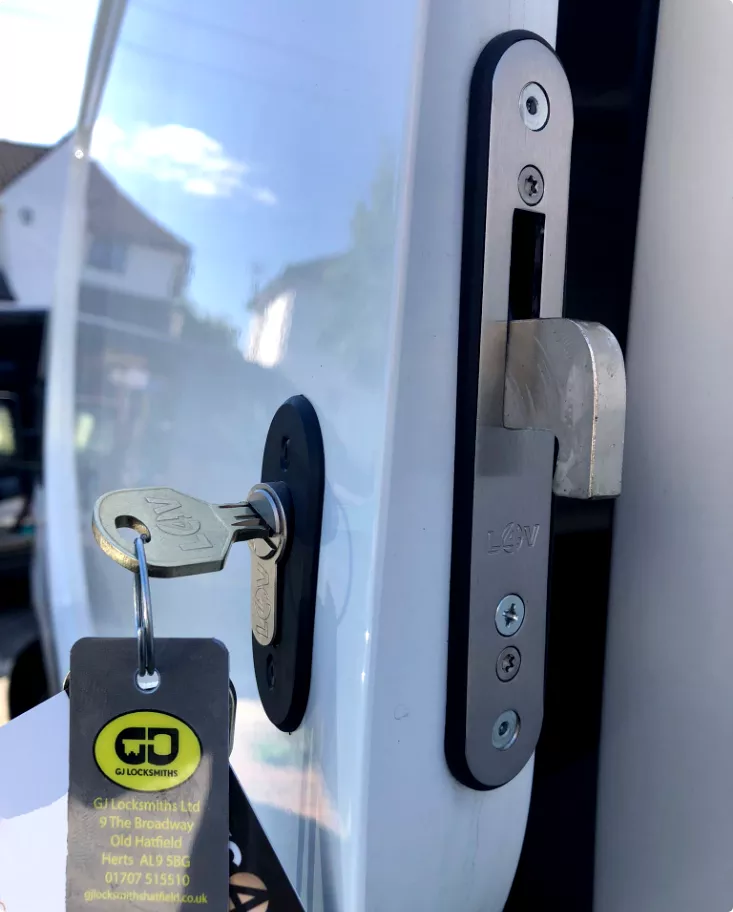 L4V Anti-Peel Kit
The L4V Anti-Peel Kits is designed to reduce the risk of the common 'peel and steal' type of theft. It's fitted to the front edge of a van door; the manufacture recommends as do we, that the anti peel kit is fitted in conjunction with the L4V Hook Lock on the same doors,
The L4V Anti Peel Kit can be fitted to both rear and side van doors.
If you have any questions or would like to speak to one of our Master Locksmiths, please don't hesitate to get in touch.
Get In Touch
If you have a question or would like to know more information we would love to hear from you…
GJ Locksmiths Ltd
9 The Broadway
Old Hatfield
Hertfordshire
AL9 5BG
Click one of the buttons below to get directions